Asian Americans in the 99%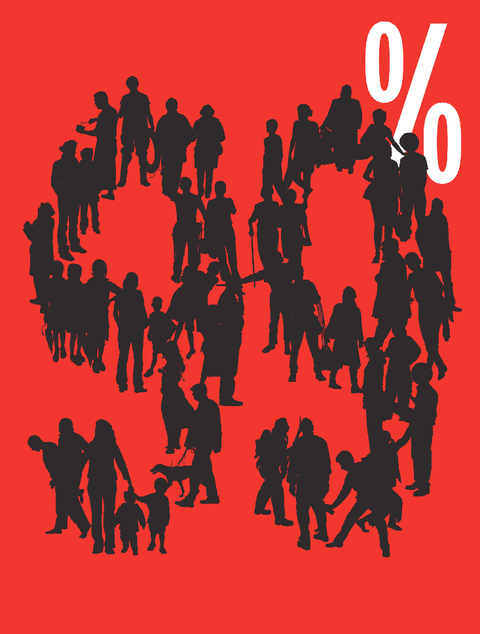 Don't be fooled. "Divide and conquer" may have been a strategy utilized by various colonial powers throughout history to maintain social control, but it has not been abandoned. The Asian American model minority stereotype is no exception. It is not a compliment to the strengths of Asian culture and Asian people. Instead, it serves only to ridicule others, especially others of color, by asking, "If they can do it, why can't you?" The consequence: many, including Asians, have bought into the idea, disregarding how Asian Americans are targets for and disadvantaged by racial inequality in various spheres of American society. With crumbling economic circumstances and Occupy Wall Street popularizing the rhetoric of the 99%, it is urgent to smash the model minority stereotype.
So, exactly who are the 99%, as opposed to the 1%? Occupy declares these groups signify the wealth and power disparity in society, with the greater concentration of power in the few hands of the much higher income bracket. The gap also represents the gap in access to necessities, such as an affordable home, a livable wage, healthy food, an adequate education, and healthcare. As the Occupy movement spread internationally, the 99% occupied and reoccupied what it meant to be a part of the majority of society who stand united in asserting that they will no longer be oppressed by the minority. Across the nation and even in countries from the Congo to Malaysia, people were declaring themselves to be the 99%. To develop and grow, we must challenge the symbols and vocabulary we adopt into our movements; the criticism of this image not invalid. It simplifies all the various complexities of the struggles, classes and identities of people into one massive category. Even though this limitation is important, it sends a powerful message of solidarity amongst people of various struggles, including Asian Americans. Also, the popularity of this image has given new life to the class debate which cannot be dismissed. While speaking for all Asian Americans is in no way possible, pervasive perceptions of Asian Americans must be challenged. Asian Americans make up the 99% too!
Statistics show that a higher percentage of Asian Americans are more likely to complete high school and go onto college as compared to African Americans, Latinos, or Native Americans[i]. They also show that they have a lower unemployment rate than all other ethnic groups, including whites, since the economic downturn in 2008[ii]. What these statistics do not account for, however, are the differences among the many Asian identity groups and nationalities. "Asian American" is a rather broad term. Most people aren't even aware how this group includes Indians and Arabs, among others. There are also nations within nations such as the Tibetans in China and the Baluch in Pakistan. Further, when individuals from these nations of various socioeconomic backgrounds arrived in the United States, they carried with them their unique histories, languages, and cultures. In reality, there are strong disparities among Asian Americans. A 2010 Current Population Survey by the Bureau of Labor Statistics found the unemployment rate of people of Vietnamese descent was higher than people of Indian, Chinese, or Korean descent[iii]. Statistics also demonstrate a higher rate of Indian, Chinese, Pakistani, and Korean Americans with earning college degrees, as compared to a strikingly smaller percentage of Cambodian, Hmong, and Laotian Americans. Even though few surveys account for these differences, the little information redeemed from the data cannot be ignored.
Adherents of the myth recurrently point to the large proportion of Asian American workers in high income work, such as the medical, engineering, and financial fields. This ignores the "brain drain" that helps shape the Asian American population, since many Asian individuals are filtered into the States as "skilled" laborers, unless they are sponsored by their family or acquire refugee status. In addition, a 1994 report examined a still relevant trend: how Asian American workers are affected by a "glass ceiling," artificial barriers limiting women and people of color from rising to managerial and leadership positions. (This is not to say that more Asian Americans should strive to be CEOs. Our ultimate goal is to eliminate poverty and the imbalance of power inherent in capitalism.) The few Asian American "success stories" are exceptions, not the rule. How Asian Americans can concurrently have a higher median income than White Americans and a higher rate of poverty illustrates this. Analysis data from the Employment Development Department in 2010 further found that jobless Asian Americans face even longer periods of unemployment when compared to Latinos and Whites [iv]. All of this research points to show that Asians are not necessarily the "model minority" but face immense immigration barriers, are victims of institutional racism, and face a wealth gap within themselves.
During the winter months, after most Occupy encampments were raided, the movement went into self-reflection mode. Meanwhile, some Occupiers turned to organize around the foreclosure crisis by reoccupying foreclosed homes, preventing evictions, and working to hold banks accountable for illegal and discriminatory practices. The majority of the homes foreclosed on were of African and Latin American families. Though there is a lack of adequate information about the effect of foreclosures on Asian Americans, evidence does show a drop in the equity of homes where there are high concentrations of the community, such as Los Angeles, Chicago, and New York. Evidence also shows that the Asian American homeownership rate of 59% lags behind the national rate of homeownership at 65.9%, despite higher median incomes and education levels than all other races. [v] Economists now warn the next crisis to burst will be with the bubbling student loan debt that is crippling many, including Asian American families.
Other factors disproportionately affect Asian Americans regarding access, further serving to challenge the model minority myth. One is the effect of the anti-immigration fervor for those both documented and undocumented, from the exploitation of low-wage immigrant workers to the increasing numbers of undocumented immigrants currently held in detention centers. Language barriers additionally exacerbate the prospects of working for a livable wage (which needs to be much higher than the minimum wage) or even access to information on social services. Gender norms in some cultures debar girls and women from higher education or entering fields deemed unsuitable for women. The class background of immigrant parents on second generation Asian Americans also influence access, as their children find themselves having to help their parents navigate through an educational system that is new to them as well. Many working-class families, who tend to live in ethnic enclaves of major cities where the standard of living is high, lack the financial resources to support their children in school, unlike their middle-class counterparts who often send their children to private schools or well-resourced suburban public schools. Institutional racism most notably manifests itself in the way Asian Americans, especially of Muslim, South Asian, and Middle Eastern descent, have experienced intense police surveillance and racial profiling since September 11th. To top this, Asian Americans have also experienced racial violence from Balbir Singh Sodhi to Private Danny Chen.
The most important factor to consider, however, is that most Asian Americans have ties to a homeland where their people have faced a cruel colonial past, nations that are now variably shaped by neoliberal practices by the hands of the International Monetary Fund, the World Bank, multinational corporations, wars funded or fought by foreign powers, and class warfare within their nations. Additionally, this fear played up by the media where India and China's economies will soon eclipse that of the United States completely disregards the widespread poverty within these countries. Discarding these truths and perpetuating the model minority myth plunges a wedge between oppressed peoples, globally and in the US, and diminishes any future for all oppressed nationalities to work hand-in-hand for revolutionary change.
While it is true that a handful of Asians compose the elite 1%, the struggles of the majority of Asians thrust them into the 99th percentile. With the Arab Spring and the growing number of international protests against capitalism, austerity, and the debt crises, the momentum for solidarity must not be breached by false perceptions of one another. Occupy has been criticized for being a mostly white, male, college-educated movement but considering what is at stake, why aren't more Asian Americans out on the streets? That is, on the streets standing with Occupy or the plethora of local organizations doing profound work within their communities. We must hold ourselves accountable in shaping the changes we want to see. If a new, just world is the vision, old colonialist strategies, like "divide and conquer," must not be permitted to undermine this momentum. Asian Americans who have internalized the model minority myth must challenge their thinking and its colonial roots. Privileged Asian Americans must acknowledge the discrimination and oppression faced by the majority of Asians, and Americans in general. The importance of all people in recognizing these experiences does not mean the struggles of Asians in the U.S. eclipse those of other oppressed groups, but that Asian Americans also have a stake in the struggle for building a more just world. It is only through first reaching an understanding of a common struggle by dismantling such divisive myths that people can link to work to make this new world a reality.
_____________________________________________________________________
i. Austin, Algernon. Economic Policy Institute. "Hidden Disadvantage: Asian American Unemployment and the Great Recession." Washington: 28 May 2010.
ii. National Commission on Asian American and Pacific Islander Research in Education (CARE). "Federal Higher Education Priorities and the Asian American and Pacific Islander Community," 2010.
iii. U.S. Department of Labor. "Asian-American Labor Force in Recovery." Washington D.C.: 2011.
iv. Semuels, Alana. "Unemployment Lasts Longer for Asian Americans."
Los Angeles Times
, 7 September 2010.
v. De La Cruz-Viesca, Melany, and Brian Chiu. Asian Real Estate Association of America (AREAA) & UCLA Asian American Studies Center (UCLA AASC). "Following the Path to Asian American Homeownership Report: An Analysis of the United States, California, New York, Texas and Select U.S. Metropolitan Areas," November 2010.
Unraveling the Threads of Violence Against Hoodies and Hijabs
-Sid Brown & RAF

Current events indicate that we in the U.S. live in a climate where hijabs and hoodies are deemed as threatening. The late February murder of Trayvon Martin in Florida has ignited international outrage. The 17-year-old Martin was guilty of nothing but being a young, black man walking in his father's upscale neighborhood and wearing the "suspicious" hoodie. Martin's killer has yet to be charged for the murder due to a Florida law that permits him to use the argument of self-defense.

Just a week ago in California, Shaima Al Awadi was taken off life support after she was found by her daughter to be brutally beaten unconscious in their home. Al Awadi was an Iraqi-born Muslim woman who wore the traditional headscarf. At the scene, beside her body was a note similar to the one anonymously delivered to the family a month ago: "Go back to your country, you terrorist." No suspect has been arrested for the crime. While each incident deserves individual attention, and justice must be fought for each victim, they are not isolated incidents. Some may say these events are simply acts by depraved and racist individuals, but they speak to a larger issue plaguing our society.

Surprisingly, the mainstream media has not failed to follow these two cases, especially that of Trayvon Martin. Perhaps this is because of the mass uprising on the streets and in social media networks. In their interpretation of the stories, however, there is something missing. What is missing (really, the elephant in the room) is the state-sanctioned violence and racial profiling that galvanizes racist vigilantes. It is not hijabs and hoodies (and let us not forget turbans, or dastars, worn by Sikhs) that ignorantly demarcate one a "terrorist," a "criminal," or a "delinquent"; it is the black and brown skin they cover. When the state encourages individuals to report "suspicious" activity and leads investigations that unfairly target these populations, such as the FBI monitoring Muslims in Newark, NJ and New York City or the prevalence of young Black and Latino males who are stopped and frisked by the NYPD, they encourage vigilante justice—a justice that desires to carry out the state's objectives. Looking back at U.S. history, how else could white supremacists justify organizing lynch mobs to hang African Americans after the abandonment of Reconstruction and throughout decades of legal racial segregation? The police turned a blind eye whenever lynching happened, not stopping the lynchers nor preventing the bloodthirsty crowds from gathering to watch the murder unfold.

What must be made clear is that such acts of violence by the hands of civilians would not occur had the state not been at war with predominantly Muslim nations, where civilian deaths go nearly ignored. It doesn't help that the media, which works hand in hand with the state, has made "Muslim" synonymous with "terrorist" and "un-American" in post 9/11 America. Further, these acts would not occur had the state not been at war with Black and Latino people, as the disproportionate rates at which African Americans and Latinos fill prison cells can attest to. This is largely due to the enforcement of the War on Drugs that racially profiles them.

After the huge response to Martin's murder, some cried: What about police brutality such as the recent murder of Ramarley Graham in the Bronx? Graham, like Martin, was a young, black man who was unarmed but was shot by police in his grandmother's apartment as he tried to flush a bag of marijuana down the toilet. Again, these are not isolated incidents from one another. The media tried to detract attention from Martin as the victim by claiming that he was only in his father's town after he was suspended from school for carrying marijuana. Both he and Graham were painted as criminals because of their marijuana possession, but even if they were breaking the law, they should not have been murdered. (There is also an argument to be had about whether marijuana should be illegal in the first place, but we are focusing on the injustice of murders.) In Graham's case, any white teen would have been let off the hook with no more than a slap on the wrist. There would have been mass outrage had a white teen been beaten for possession, much less murdered. No, neither's crime was drug use—it was being Black. Similarly, Al Awadi was targeted for being a Brown, hijab-wearing, Muslim woman.

The public outcry over Martin and Al Awadi's cases should be seized as an opportunity to encourage discussion of the xenophobic, white supremacist actions of the government and criminal justice system, which prompt individuals to commit such heinous crimes. The state may proclaim, "Do as we say and not as we do" all it wants, but we just can't let it get off that easily. We should know better.

The most important thing that people should learn is that these cases come from systemic, not individual or abnormal, issues. The more the state—in this case, the politicians and the police—calls these "isolated incidents," the more we must push back and demand a structural analysis with structural changes. We cannot take racist ideas and internalize them. We cannot accept their terms of "justice." We need to rethink what justice means, not accept what the white supremacist, patriarchal, war-loving USA tells us it means.

Justice happens when we support victims of police brutality and vigilante violence. Justice happens when we do not think in simple terms of who is "innocent" or "guilty"—people are more complicated than good or evil, but they do not deserve to be murdered or brutally beaten because of petty crimes, or no crime at all.

Here are some thoughts on concrete solutions, big and small:

We have to end white supremacy in all its forms. That means ending the violence against people of color, white privilege, economic privilege of white and light-skinned people, racist stereotypes, and erasure of what really happened to Black, Brown, Red, and Yellow peoples in this country and abroad.

We have to end the belief that this was ever a "good" country founded on "good" ideas. USA was built by white men with land and reserved genocide, slavery, and rape for everybody else. It was never good. It continues to dominate people of color at home and abroad to this very day.

We need to rethink who is a criminal and who is undeserving of rights. Being Muslim, poor, a person of color, a woman, a queer, or an addict should not mean arbitrary punishment. It should mean we get our due for the years of oppression that we and our ancestors have faced. It should mean that we are no longer oppressed because of who we are, or in the case of the addict, it should mean we get treatment for our disease.

We need to hold the police accountable for murdering

anyone

, especially when the victims are disproportionately Black or Brown.

We need to tear down this justice system and build a new system that redresses past wrongs and aspires to be fair and humanizing to all who have been oppressed.